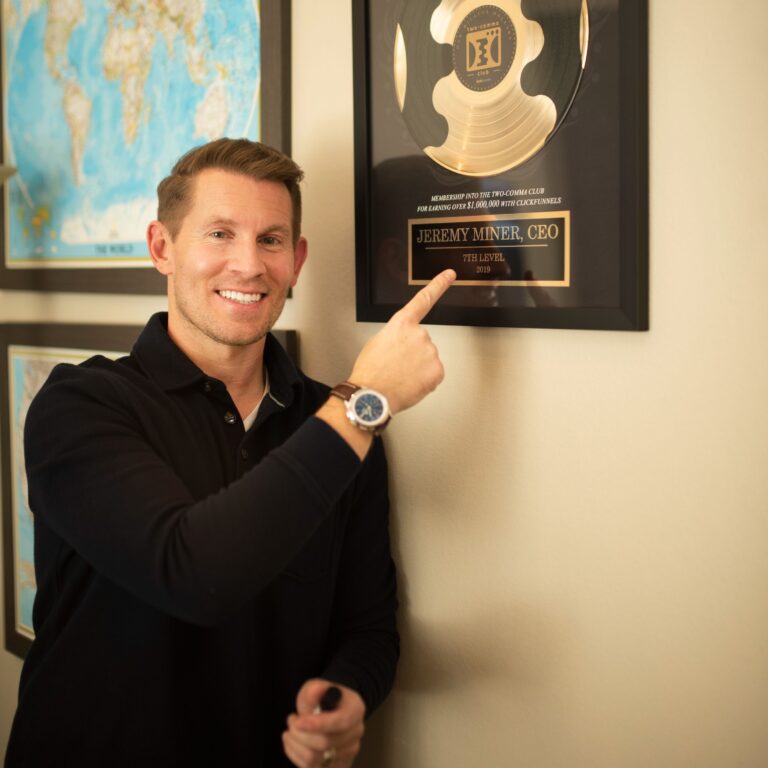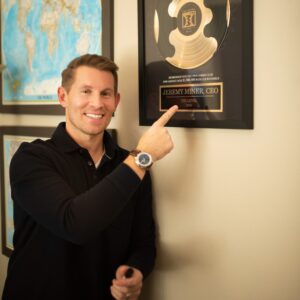 About Jeremy Miner: Jeremy Miner is the Chairman of 7th Level, a Global Sales Training company that was ranked #1,232 of the fastest-growing companies in the United States by INC magazine's list of the top 5000 companies in 2021. He is also a contributor to INC magazine and has been featured in the Wall Street Journal, Forbes, Entrepreneur magazine, and a host of other publications.
"The single most effective way to sell anything to anyone in 2022, is to be a problem finder and a problem solver… NOT a product pusher." For Jeremy Miner, the embodiment of this philosophy has made him one of the wealthiest sales professionals on the planet.
During his 17-year sales career, Jeremy was recognized by the Direct Selling Association as the 45th highest-earning producer, out of more than 100 million salespeople – selling anything, worldwide! His earnings as a commission-only salesperson were in the multiple 7-figures, EVERY year.
Jeremy's unique brand of sales training pioneers the use of behavioral science and human psychology, reflective of his deep studies in the subject from Utah Valley University.
Jeremy is the host of the podcast, Closers are Losers and is the author of a new book, The New Model of Selling Selling to an Unsellable Generation co-authored by Jerry Acuff – CEO of Delta Point.
In this episode, Jennie and Jeremy discuss:
Learn the right skills.
How to disarm your prospect
Triggering curiosity
Key Takeaways:
You will fail if you don't learn the right skills. Be committed to learning more advanced skills to succeed in your career.
When it comes to direct sales, you have to learn how to put the sales expectation aside and focus on whether you're helping them. Come across as more neutral and detached.
Identify two or three generic problems that any person would be familiar with, then explain what you can do to help them, that immediately piques their interest. Constantly keeping prospects' guards down is key to success in selling.
"I think one of the biggest things that people come into direct selling is they just get really hyped up. But the problem is that it wears off very quickly when you don't know what to say and ask that causes the prospect to want to open up and engage." – Jeremy Miner
Gift:
Sales Revolution: Persuasion Selling for Entrepreneurs & Sales Pros – https://www.facebook.com/groups/725879474624834
CONNECT WITH JEREMY:
Website: https://salestraining.clickfunnels.com/optin1645488286998
Facebook: https://www.facebook.com/jeremy.miner.52
LinkedIn: https://www.linkedin.com/in/jeremyleeminer
CONNECT WITH JENNIE:
Website: https://badassdirectsalesmastery.com/
Email:  jennie@badassdirectsalesmastery.com
Facebook personal page: https://facebook.com/jbellingerPL
Facebook podcast page: http://facebook.com/BadassDirectSalesMastery
Facebook group for Badass Crew: https://facebook.com/groups/BadassDirectSalesMoms
Instagram: https://instagram.com/BadassDirectSalesMastery
Personal Instagram: https://instagram.com/jenniebellinger
LinkedIn: https://linkedin.com/in/BadassDirectSalesMastery
Show Notes by Podcastologist: Angelica Rayco
Audio production by Turnkey Podcast Productions. You're the expert. Your podcast will prove it.
Listen Now »