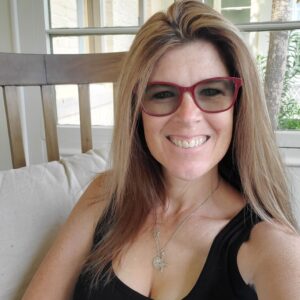 About Brigette Barr: Brigette has been in the direct sales industry for over five years now. She is a badass goddess among women who have yet to learn their true purpose. She loves to lead people to the finish line and is supportive beyond measure. Giving is her love language, sometimes to a fault, but she's not going to change who she is for anyone. Being authentically herself means that she can show up for anyone who is ready to learn, drive and become the Goddess that they were meant to be.
In this episode, Jennie and Brigette discuss:
Aligning your business to your core values
The importance of having a strong and encouraging leader for your brand
Conquering self doubt as an entrepreneur
Having the give back component to your business
Key Takeaways:
Create a business that is based not only on what works best for you, but also on your core values. Your business is more likely to thrive and you will feel more fulfilled if it is aligned with your personal values or something you are passionate about.
Nothing beats being led by a strong leader who genuinely cares about you and values the spirit of camaraderie. Celebrate the successes of others. There is room at the top for everyone.
Don't let self-doubt hold you back. Stop caring what other people think. You can do it; all you have to do is believe in yourself and stay true to your intentions, and you will attract customers.
It's never difficult to see your money go when it's for a good cause. Give back by donating money, products, or simply volunteering your time. Your company is never too small to make an impact in the community.
"I don't sell to them, it's me sharing what has worked for me." – Brigette Barr
Gift:
CONNECT WITH BRIGETTE BARR:
Personal Website: https://taplink.cc/brigettebarr74
Business Website: https://beautybarr.shopcovecreek.com
Personal Facebook: https://facebook.com/brigettebarr/
Facebook Business Page: https://facebook.com/BeautyBarr19
Instagram: https://instagram.com/brigettebarr74
Email: brigette74@gmail.com
Phone: +1 540-226-5476
CONNECT WITH JENNIE:
Website: https://badassdirectsalesmastery.com/
Email:  jennie@badassdirectsalesmastery.com
Facebook personal page: https://facebook.com/jbellingerPL
Facebook podcast page: http://facebook.com/BadassDirectSalesMastery
Facebook group for Badass Crew: https://facebook.com/groups/BadassDirectSalesMoms
Instagram:
https://instagram.com/BadassDirectSalesMastery
Personal Instagram: https://instagram.com/jenniebellinger
LinkedIn: https://linkedin.com/in/BadassDirectSalesMastery
Show notes by Podcastologist: Angelica Rayco.
Audio production by Turnkey Podcast Productions. You're the expert. Your podcast will prove it.
Listen Now »